Description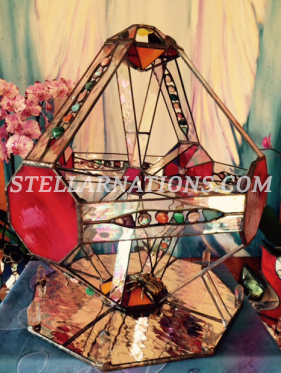 With this two part meditation we continue our series called "Niomé's Secrets" to reveal the exact details of creating and using the Niomé Anti-Grid. The first part of this guidance helps us to consciously create the extremely powerful protective and energizing personal light-shield which can screen, destroy and keep away all the pathogenic elementals harmful to our physical and emotional health, all the mind-manipulating and astral influences, the negative thinking patterns and destructive programs sent to us and even the approach of the different forms of artificial intelligence. This meditation can also be very helpful in cases of an acute or chronic inflammatory or infectious disease or if we feel that there is too much negative and low vibrational energy and astral presence accumulating around us.
In the second part of the meditation we minister in our fate as cosmic humans,
creating the planetary Anti-Grid around the Earth through the power of a wonderful joining of Lightworkers. Together, we cleanse the living sphere of Gaia and strengthen the protection around our Mother Earth.
 Both parts of these meditations also help us shield from the expanding presence of 5G technology and other EMF radiations.
 We would like to emphasize that this meditation should only be ordered and used by those who have already read our book "Stellar Nations – Soul Families" so they clearly understand who Niomé is and what she can help us with.
(The spiritual teachings directly related to the meditation can be found in our book Stellar Nations – Soul Families, Volume II pp. 90-164)
 We hope this special healing journey can provide great help to many people.
Dr. Beatrix Czeizel & Anikó Greskó
 We prepared a very special and extremely powerful sacral light-altar to accompany this meditation. It is an instrument and power generator sanctified by Niomé. It accurately reflects the sacral geometry and working principle of the defensive Anti-grid. It had become a focus point that works as the anchor and sustainer of the collective Anti-Grid. You can find some pictures of this wonderful work of art on our website, next to the introduction of the CD.
 ♦
Price: 15$
Voice: dr. Beatrix Czeizel
Cover artwork: Melinda Németh – Niomé's Secrets
Music by Christopher Lloyd Clarke, licensed by RoyaltyFreeMeditationMusic.com and stock media provided by Pond5.com